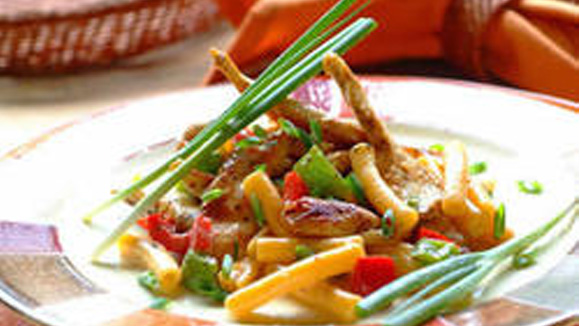 Mac 'n Cheese with Cajun-Spiced Chicken
Mac 'n Cheese has never tasted so decadent - simply add Cajun seasoning, peppers and chicken breasts.
Recipe serves

4

Preparation time

5 minutes

Cooking time

35 minutes
Ingredients
1 Tablespoon Margarine to fry
300 Gram Chicken breasts, sliced
15 Millilitre Cajun Seasoning
2 Millilitre Garlic, crushed
½ Green pepper, diced
½ Red pepper, diced
15 Millilitre lemon juice
1 KNORR Macaroni and Cheese Pasta and Sauce
125 Millilitre Milk
310 Millilitre water
50 Millilitre Stork Margarine
Method
In a large frying pan, heat Stork margarine over a medium high heat, add chicken and Cajun seasoning and fry until the chicken is brown.
Add garlic and peppers and fry until they have softened.
Add lemon juice and set aside.
In a medium saucepan, bring milk, water and margarine to the boil.
Add uncooked pasta and contents of the sauce sachet and stir continuously until boiling.
Simmer for 8-10 min on medium heat, stirring occasionally.
Stir in the Cajun chicken and serve garnished with spring onions.