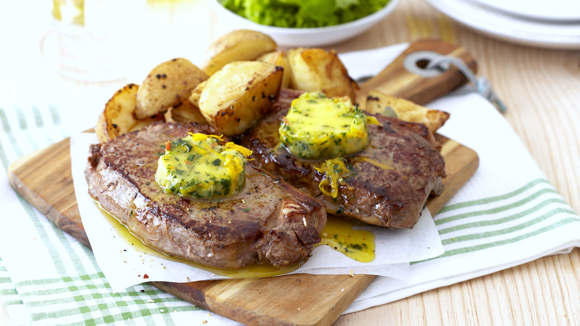 Flavoured Spreads for Grilled Steak
If you are looking for sauce variations for your steak dishes, try one of these 3 delicious flavoured spreads - Lemon and Fennel, Orange and Coriander or Garlic and Herb.
Recipe serves

4

Preparation time

10 minutes

Cooking time

15 minutes
Ingredients
5 ml Freshly chopped thyme
1-2 Red chillies, chopped
30 ml Freshly chopped coriander
1 Orange, rind only
15 ml Chopped fresh fennel
1 Lemon, grated rind only
5 ml Fennel seeds, crushed
4 Porterhouse or sirloin steaks
500 g Stork margarine, softened
1 KNORR Classic White Sauce
15 ml olive oil
5 ml Freshly chopped rosemary
15 ml Finely chopped parsley
10 ml Freshly crushed garlic
Method
Stir the contents of the KNORR Classic White Sauce packet into the softened Stork margarine and mix in well.
Divide the mixture into two and stir in your choice of flavourings.
For lemon and fennel combine the chopped fresh coriander, lemon rind and fennel seeds. For orange and coriander combine the chopped thyme, red chillies, chopped coriander and orange rind. And for garlic and herb combine the chopped rosemary, chopped parsley and crushed garlic.
Spoon the spread onto a large sheet of greaseproof paper, rolling up to form a log shape.
Twist the ends like a Christmas cracker.
Refrigerate until firm.
To serve, simply cut the spreads into thick slices.
To prepare the steaks: Lightly oil a griddle pan or thick cast iron frying pan until smoking hot.
Place the meat on the pan and fry for 2-3 min on each side for a rare steak, 4-5 min on each side for medium and 5-6 min on each side for well done.