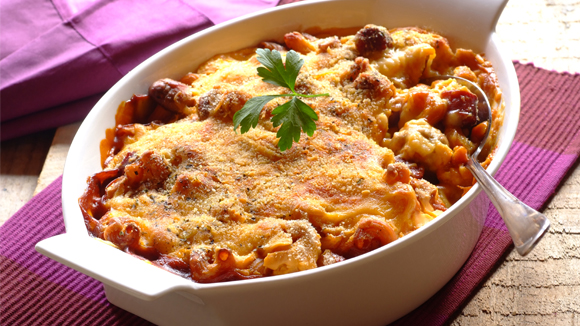 Spicy Sausage, Mushroom and Noodle Bake
Bring out your inner Italian with this spicy sausage, mushroom & noodle bake!
Recipe serves

4

Preparation time

5 minutes

Cooking time

40 minutes
Ingredients
15 ml oil
300 g Cabanossi sausage, sliced
250 g Button mushrooms, whole
800 ml hot water
1 box KNORR Mince Mate Creamy Cheesy Noodles
150 ml breadcrumbs
3 ml Robertsons Origanum
150 ml grated cheddar cheese
Method
Mix together the breadcrumbs, cheddar cheese and origanum in a bowl and set aside
Fry mushrooms and cabanossi sausage in oil for 2-3 minutes.
Add the 800 ml hot water, sachet of seasoning mix and the uncooked pasta contained within the box and bring to the boil.
Reduce heat and simmer for 10 minutes, stirring occasionally.
Transfer into a baking dish, top with the cheese sauce made up as per instructions on the box, top with the breadcrumb mixture and grill for 4 minutes.