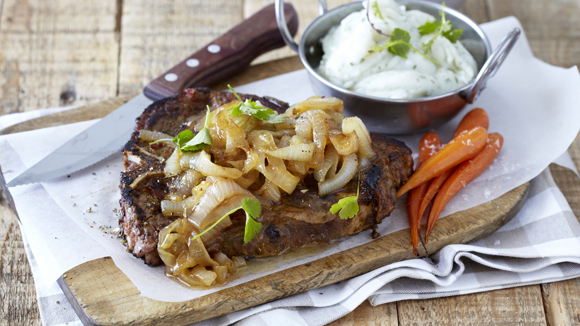 Grilled T-Bone Steaks with Garlic and Ginger
Garlic, ginger, red pepper and fresh basil are the main ingredients for this delicious steak recipe that can be served with piping hot mash.
Recipe serves

4

Preparation time

5 minutes

Cooking time

8 minutes
Ingredients
5 ml Crushed ginger
½ Red pepper, halved
125 ml Basil leaves, roughly chopped
5 ml Cumin
3 ml black pepper
1 KNORR Beef Stock Pot
150 ml boiling water
2 Cloves garlic
4 Whole T-bone steaks
45 ml olive oil
Caramelized onions, herbed mash and glazed carrots to serve
Method
Put the garlic, ginger, red pepper, basil leaves, cumin, black pepper and KNORR Beef Stock Pot and boiling water into a liquidizer and blend until smooth.
Place steaks in the marinade in fridge overnight for flavours to develop.
Preheat the griddle pan or oven grill.
Season steaks on both sides and cook over medium high heat for 3-4 min each side for medium rare.
Top steaks with caramelized onions and serve with herbed mash and glazed carrots.