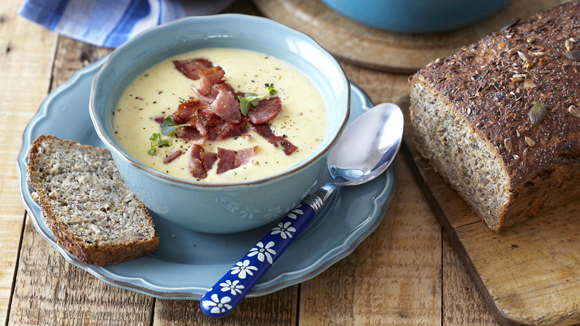 Curried Cauliflower Soup with Crispy Bacon Bits
Warm yourself from the inside out with this curried flavoured cauliflower soup
Recipe serves

4-6

Preparation time

10 minutes

Cooking time

40 minutes
Ingredients
30 ml Olive oil
1 Onion, chopped
1 Granny smith apple, roughly chopped
15 ml Curry powder
5 ml Robertsons Garlic Flakes
1 Head of cauliflower, chopped into florets
1 lt Water
1 KNORR Chicken a'la King Dry Cook-in-Sauce
10 ml Honey
Robertsons Freshly Ground Salt and Pepper to taste
Crispy bacon bits for garnish
Method
Heat the olive oil in a large pot and sautè onion until soft.
Stir in the apple, curry, Robertsons Garlic Flakes and cook for 2 minutes.
Add the cauliflower, water and KNORR Chicken a'la King Dry Cook-In Sauce.
Bring to the boil and simmer for 20 minutes.
Using a hand blender, blend soup until smooth.
Stir in honey and season to taste.
Garnish with crispy bacon bits and serve with toasted seed loaf.